Latest Updates from 'Score'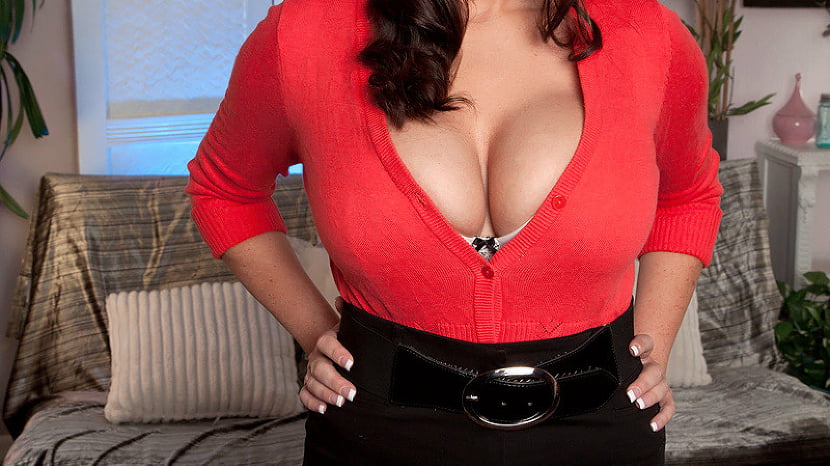 Barbie Kelley (Big Racks, Hot MILFS on DVD) is married to Mark, a veteran subscriber to SCORE, Voluptuous and XL Girls magazines and SCORELAND. He wanted to see his wife in SCORE, something other readers have mentioned over the years but rarely follow-through on, whether it's a wife or a girlfriend. Barbie contacted BeASCOREModel.com last year and posed and also did two boy-girl scenes. Jayden Prescott, Kelly Christiansen, and several other models are also married to SCORE readers. Kaytee Carter is the girlfriend of a reader. Barbie just recently returned for another visit. We talked to Barbie and Mark both individually and together. SCORE: Did Barbie practice poses and positions either on-camera or in a mirror before visiting the SCORE building? Mark: Barbie is a total ham! She loves the camera and it loves her. I always say that as long as there is a mirror in the room, her two favorite people are there. (Laughs) SCORE: Do you go to strip clubs together or bra shop together? Barbie: We have gone to strip clubs before but it isn't high on our list of things to do.
It's always a great pleasure to have Daylene Rio at SCORE. She comes all the way from California. This year we added a special touch by taking Daylene out to the famous Haulover Beach in North Miami, a patch of sand and surf that's known around the world as one of the best clothing-optional beaches. Daylene caused a stir and a whole lot more even in her bikini. Walking around naked drew a flock of followers you don't see in the photos and video because we kept them out of camera-sight. But they were there! It's not every day that you see Daylene Rio naked in public. It's not every day that you see anyone remotely stacked as Daylene in clothing. Not even at a nearby mall, where Daylene shopped for sweaters. Nice, tight, low-cut sweaters. The kind a tit-man loves to see a busty woman squeeze into.
Mischel Lee is a newbie from the land of busty girls. The place where the big-boobed rainbow ends in a bra of gold. Yes, the fabulous Czech Republic, vacation spot for tit-men. Mischel sports the hairiest pie-patch since Vanessa Y. started modeling at SCORELAND. That's very unusual these days, especially with slim and stacked girls. Her angel wings are thick and large. Guys who love big pussy lips and bush boxes have hit the jackpot with Mischel. Mischel knows some basic English but in a Bonus video posted with this set and video, one of our translators is standing by to ask the questions in her native language to make the process easier. Mischel's girl-next-door look comes through also.