Latest updates featuring Tahnee Taylor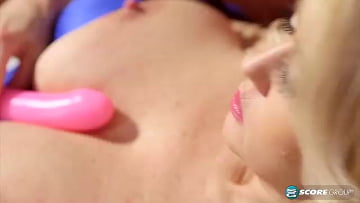 25th August
- "I love big dicks," Tahnee Taylor says, back as our MILF of the Month in a very generously-nasty scene thanks to Tahnee's sexual super-powers. "Big di
cks go with big tits. I like it when a man sucks my nipples. They're very sensitive. Men always go for my big breasts." Tahnee is sitting in an armchair and filling her asshole with a big toy when Jeremy approaches, cock out and ready to service the big blonde. She opens her mouth and in goes his prick. They move to the bed so Tahnee can spread her legs wide as she continues her blow job, the toy still going in and out of her ass. Tahnee takes the toy out and wants Jeremy to fuck her pussy. He does so with great pleasure. They put the toy back in her asshole while he's fucking her.
...Read More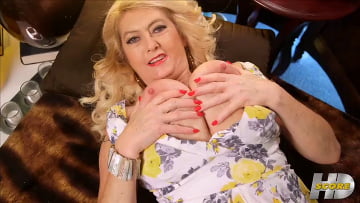 23rd April
- Tahnee Taylor made up her mind to become a model.. "After I split with my ex-husband. I went through the typical phase that all divorcees go through w
hen they're horny as hell. I wanted to try it and see if I would enjoy it." And enjoy modeling Tahnee did, by herself and with professional cocksmen. "I like younger guys with a lot of stamina. I like teasing, flirting, touching and then fucking. There's always plenty of time for fucking, and by that time, we're both really worked up. I'll suck a guy's cock for a half hour if he wants. He can suck on my nipples for as long as he wants.".
...Read More