Latest Updates from 'Bad Teens Punished' at Pornstar Scenes (Page 4)

Cock craving coed Kimmy Granger is on a mission to get Jessy Jones naked for some X-rated fun. After peeling off her shirt, Kimmy gets down on her knees to suck her man off with infinite enthusiasm. The only thing that can get this hot number off of Jessy's cock is the promise of getting her twat eaten out and then filled and fucked.Jessy is happy to give Kimmy what she craves, spreading her legs so that he can drive into her greedy bald fuck hole. They start their fuck fest off on the couch with Jessy spooning behind Kimmy, but soon Kimmy has climbed onto her knees to take it from behind.Switching things up again, Jessy settles on the couch so that Kimmy can climb onto his dick for a stiffie ride in her creamy snatch. Not only does this position set off orgasmic fireworks for Kimmy, but also it brings Jessy right to the edge of blasting off. A moment later, he loses control and gluts Kimmy's twat with a creampie of hot cum.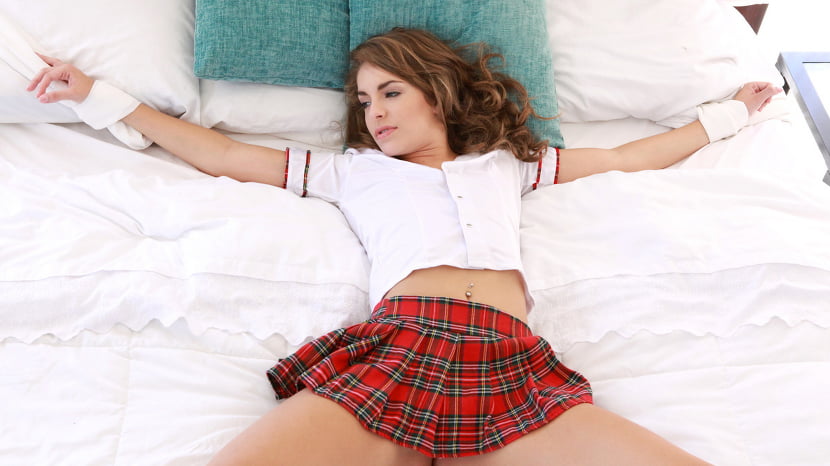 Schoolgirl Kimmy Granger is still in her miniskirt uniform when Chad White ties her to the bed to have his way with her. Kimmy can't contain her moans of delight as Chad gives her snatch a smack and then pushes her panties aside to run his fingers up and down her bald slit. Her excitement only grows hotter and deeper when Chad whips out his dick and presses it to her mouth so that she can lick and suck until he's fully satisfied. When Chad finally unties Kimmy, it's with the expectation that she'll submit to his will. She is happy to do so, getting on her hands and knees to let him examine her soft pink pussy with his magical mouth and then spreading her legs so that he can push himself deep inside her twat from behind.Holding nothing back, Chad works his woman with hard fast thrusts until her moans of pleasure fill the room. Kimmy can only go along for the ride until she finally has the chance to climb on top. Taking advantage of her new position of power, Kimmy grinds her hips and goes to town giving Chad a stiffie ride that brings him right to the edge of passion. He only pulls out at the last moment, demonstrating his final act of possession as he covers Kimmy's belly in his cum.
Just home from school and still in her uniform, Piper Perri decides to sneak a cigarette. Logan Pierce catches her in the act and decides to punish her for her naughty behavior. Flipping up her skirt, he takes a the time to spank her ass until it's red and stinging. The hard slaps get Piper's bald snatch is wet and ready for Logan to slam his cock deep into her fuck hole for a pussy pounding she can't escape. Deciding to put Piper's mouth to work, Logan drops her to her knees and orders her hands behind her back so that she must lean into him to give the blowjob he demands. When Piper has complied with all of Logan's demands, he rewards her with another round of fucking that brings her to one powerful climax after another. When he decides she's had enough, Logan brings Piper back to her knees and then uses her uniform's tie to guide her mouth until it's in the perfect place to take a face full of his hot cum.