Latest 'Girl-Girl' updates from Pornstar Scenes


Alex More decides to keep the remote control from her stepbrother Robby Echo as her friend Norah Nova encourages the argument. The kids all reluctantly sit down on the couch together as their parents Dick Chibble and Alana Cruise go through pictures on their phones. Knowing that the two parents are distracted, Norah takes advantage and starts flaunting her tits at Robby. When Dick and Alana leave to go make snacks, Alex watches Norah put Robby's hands on her breasts. Once Norah feels how hard Robby is, she pulls out his dick and starts sucking him off!Norah isn't about to seduce her friend's stepbro all by herself. She urges Alex to show off her own perky titties. Then she goes back to slurping happily as she deep throats Robby's fuck stick. When Norah decides that they're going to take things a step further, she instructs Alex to take off her shorts and panties. On her hands and knees, Alex watches over her shoulder as Robby slides his hardon all the way inside. Then her moans are muffled by Norah's pussy as her friend positions herself at the perfect angle for a pussy licking.The trio tries to hold the moan, but it gets harder when Alex and Norah switch places. On her back in the middle with Robby's thick dick between her legs and Alex's juicy snatch riding her mouth, Norah is all smiles and giggles as she gets ever closer to cumming. Alex finds herself on the bottom once again with Norah first dominating her face and then sliding down so that Robby has a double pussy stack to bang. When she's had enough, Norah keeps sitting on Alex's belly while instructing Robby to cum in his stepsister. Robby obliges despite Alex's protests, filling her with a creampie just as their parents walk back in and catch them in the act.
A game of chess between Mindy and Kira Thorn is growing heated in more ways than just one. When Jason X. passes by the windows, he sees his wife in her girlfriend's lap. The girls are much too distracted with their deep kisses to notice, but Jason taps on the window to let them know of his presence. When he joins them, he is all smiles and totally open to the promise of a threesome with his wife and her lover.He joins Kira before Mindy so that each can focus on a nipple They are quick to work Mindy out of her shirt and shorts, relieving her of her clothes so that Kira can bury her face between Mindy's thighs. While Kira keeps up with her pussy feast, Jason helps her out of her remaining clothes as well. When he's done, he joins her lapping at Mindy's greedy twat. Finding herself on her belly on the table, Kira reaches out once Jason has sprung his hardon free of his clothes to start stroking him. Meanwhile, Mindy kneels behind Kira so she can play her tongue over the soft folds of Kira's sumptuous pussy. She only lets Kira move out of the middle when Jason replaces her so that the girls can enjoy a double blowjob.Once they have had their ill of sucking cock for the time being, the girls each pick a spot on Jason's body to start riding. Mindy yields her husband's hardon to her girlfriend and settles on his mouth instead. Leaning forward to fill her hands with Mindy's breasts, Kira rocks her hips in a rhythm that Mindy quickly imitates.Kira eventually slides off Jason's fuck stick so Mindy can turn around and give him a reverse cowgirl ride. Jason helps her set a steady pace with his hands on her waist. Meanwhile, Kira does whatever she can to double down on both of their pleasure by stroking and sucking even as one of her hands creeps down to fondle her clit.The girls are eager to keep going, so Jason waits as they position themselves in a 69 with Mindy on the bottom. When he sees Kira's ass waving in the air, he grips it between his big hands and sinks his dick balls deep into her greedy wetness. Mindy's position beneath them lets her tease Jason's balls and enjoy the musk of her girlfriend's cream all over her snatch and her husband's hardon.Kira resumes her helpful licking and sucking as Mindy lays on her side with Jason spooning behind her. He can easily fill his hands with her breasts one last time as he drives into her fuck hole. As they bang, they each enjoy the sensation of Kira's mouth and fingers teasing all the right spots until Mindy is moaning and Jason can't hold back from nutting one more moment. He pulls out so Kira can stroke him off all over Mindy's belly, leaving her cum covered and content.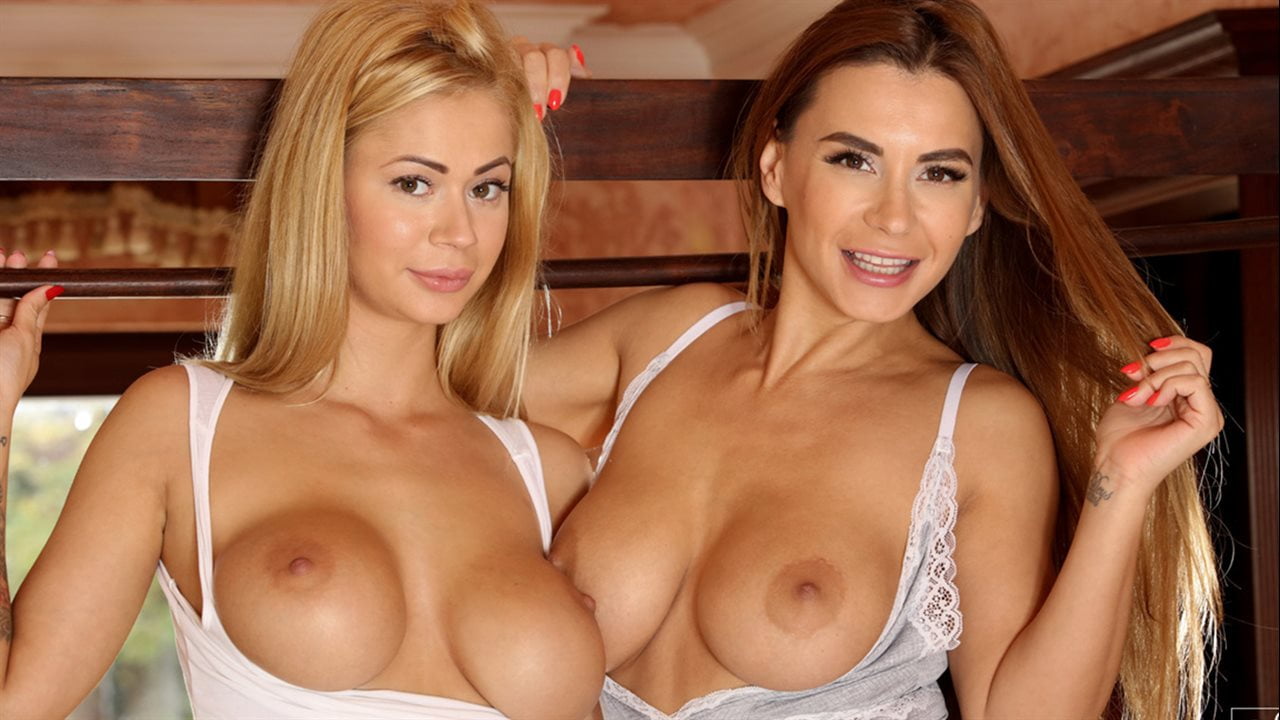 You've never seen anyone as scrumptious as Dorothy Black as she lounges in her bedroom wearing lingerie that clings to her supple curves. She's busy with her phone as Peneloppe Ferre sneaks up on her and smacks her with a pillow. Soon both busty babes are engaged in a playful pillow fight. Even when Dorothy's breasts pop out of her top, Peneloppe keeps going.Their playtime comes to an end as their lips meet in a mutual surrender. When the girls come together, each of their busty frames strains to get closer to the other's. Dorothy bares Peneloppe's titties so they can each enjoy sexual touches in between additional bops with their pillows. When the pillow finally bursts, the girls shift their focus to each other.Peneloppe presses Dorothy down onto the bed and climbs on top of her. She steals a kiss, nibbles her lover's knockers, then works her way south until she settles between Dorothy's thighs. There she finds the surprise of a pierced clitoris to play her tongue over. Licking and suckling, Peneloppe brings Dorothy to a fever pitch of sensual need before driving her fingers all the way inside to leave her groaning her completion.As her body thrums with pleasure, Dorothy switches spots with Peneloppe. Her determination to make Peneloppe cum leads her to fill her palms with Peneloppe's busty jugs and then push her forward onto her hands and knees. Peneloppe is eager to go along with the flow as Dorothy buries her face between her thighs to feast on her love's juicy fuck hole. Flipping onto her back, Peneloppe watches down the line of her body as her dark haired girlfriend uses her stiff tongue on her clit and her fingers in her twat to leave her moaning.Unable to finish her afternoon without making Dorothy climax again, Peneloppe crouches between her girlfriend's legs and goes back to work with her magical mouth. That's not quite enough for either of them, so they adjust their position until they are pussy to pussy. Scissoring together to create unmatchable pressure against both of their clits, they thrust their hips in a sensual rhythm until they each enjoy another glimpse of paradise to complete their lovemaking.