Latest updates featuring Darcee Lee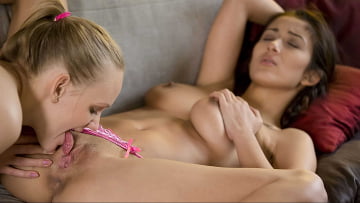 8th January
- The crisp fall day is perfect for Darcia and Lucette's run. The BFFs giggle as they jog, and Lucette finds her gaze drawn to Darcia's cleavage as her
friend's big tits bounce in her sports bra! When Lucette trips and hurts her ankle, Darcia wraps her friend's arm over her shoulders and supports her slender body all the way home. On the couch, the dark haired beauty gently pulls off her blonde chum's shoe and begins to gently massage her foot and ankle, letting her fingers travel higher and higher up Lucette's leg until she softly brushes her pussy, making her girlfriend moan. Lucette sighs with pleasure as Darcia licks her perfect pink nipples before peeling off her leggings, and soon the babes are trying some sexual healing with passionate scissoring and a steamy 69!
...Read More
>> CLICK HERE TO DOWNLOAD <<
4th June
- Lyen Parker and her girlfriend Darcee Lee are making pancakes at JJ's house. These sexy sluts are wearing nothing but their pretty lace panties and a
tight apron! The girls are there to cook breakfast for their hungry guys, who can wait to eat--Lyen and Darcee's pussies that is! When the kitchen gets too hot from these girls beautiful bodies, the cooking comes to a halt as the fucking party begins! Lyen and Darcee take a break by kissing each other and worshiping each other's tits and asses, but then the guys return ready to sweep these sluts off their feet and into the living room where they'll stuff their pussies with big cocks! Lyen and Darcee couldn't wait for the real fun to begin! After all, Lyen and Darcee might be awful chefs, but they're professional cocksuckers who love to fuck!
...Read More