Latest updates featuring Aileen Ghettman
28th October
- I wasn't around for this scene, but I am pleased to say that I was on the set for Aileen Ghettman's scene in the movie Boob Science. Unfortunately, I
didn't get to fuck her. Someone else did. Fortunately, I got eyefuls of her big, naturals tits bulging out of a sheer top that was only partly buttoned, and before I left the room, I got a glimpse of her super-hairy pussy, too. You know, no matter how many times I see SCORE Girls in the flesh, I never cease to be amazed by how stupendously built some of those girls are. Aileen is one of them.
...Read More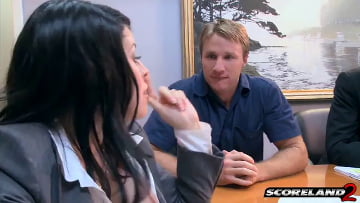 13th July
- I know exactly where I was when this scene was shot. I was (and I'm estimating) sitting about four feet away from Daphne Rosen's bulging cleavage and
about two feet away from Aileen Ghettman's also-bulging cleavage. I was trying to act, something I'm not very good at, but when Aileen popped open her blouse and her tits poured out, I wasn't acting. I was truly astonished by the size of her whoppers. And that part of the video in which Daphne tries to hypnotize Aileen? I was hypnotized...by tits!
...Read More