Latest updates featuring Abby Paradise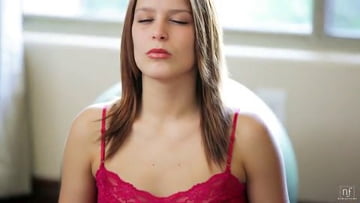 23rd April
- Flexible and delectable Abby Paradise is finished with her yoga workout and eager to satisfy the rest of her body's needs with some sensual masturbati
on!Pulling off her shirt and short booty shorts, Abby stands naked in her workout room and debates what to do first to make herself feel good! She kicks things off with a tit massage, rubbing her hands over her all natural boobs and pinching her rock hard nipples. Working her way slowly down her flat belly to her soft bald pussy, Abby gently runs her fingers up and down her juicy slit. Her clit throbs happily beneath the gentle touches, but the redhead needs more than just that to get her motor running!As her fingertips grow damp with her pussy juices, Abby slides a fingertip into her tight channel and pulses the depths of her needy twat. Liking what she feels, she transitions to using both hands so that one can deliver a fast pussy fingering while the other rubs her hard little clit.With such focused attention, it is only a matter of minutes before Abby feels the first waves of her climax pulsing through her delectable body. Pleased with the last part of her workout, Abby leans back in her chair and basks in her orgasmic afterglow.
...Read More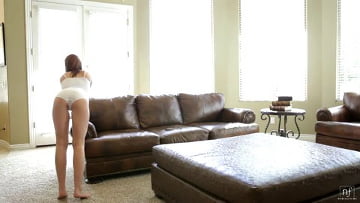 26th March
- Sweet sexy redhead Abby Paradise is eager to unveil her tight slender body from its sheer camisole and cheek-hugging panties so that she can have a go
od, orgasmic time. After peeling off her clothes, Abby wastes no time in getting down to business running her fingers up and down her sensitive clitoris.Her touches start off slow and tentative, but as her soft shaved pussy grows wet and eager her clit massage gets bolder. Dipping her fingertips into her warm tight sheath, Abby smiles as she finds herself growing nice and wet with anticipation. Her pussy juices glisten as she spreads them all over her pink folds, lubing the way as she continues her massage of her love button.Soon Abby's hips are pumping in time with her massage, showing how close she is to the brink of her climax. She builds the sensation further by squeezing her tits and pinching her rock hard nipples until her climax rips through her whole body and leaves her panting and sated.
...Read More